Upcoming Spring Festivals!
Philadelphia is jam-packed this weekend with great springtime festivals and events for everyone, so pick from the list below and head into the city this weekend!
– Rittenhouse Row Spring Festival will be hosted on Walnut Street this Saturday from noon until 6pm. The popular outdoor festival will feature wine tastings, food samplings from great local restaurants, and live music. Best of all? It's free!
– The Philadelphia Science Festival is running from now until May 3rd. With over 100 events for science-lovers of all ages, you'll be sure to find a fun activity, exhibition, lecture, or experiment!
Click here for more information and details!
– South Street's Second Annual Spring Festival is back, with lots of food, music, and fun! From noon until 8pm on Saturday, head to South Street (between 2nd and 8th) for great special events. This event is free.
– Philadelphia International Children's Festival will be hosted at the widely acclaimed Annenberg Center for the Performing Arts from now until May 4th, with plenty of professional kid-friendly shows! Visit their websitehere for more information.
---
Appraisal Contingencies
A real estate appraisal is an evaluation of a home's market value as determined by a qualified real estate appraiser. Appraisals are typically the basis for mortgage loans, and your lender will likely require an appraisal of the property to ensure that you (and they) are paying a fair price.
An appraisal contingency, then, is a part of the Agreement of Sale that requires the home to appraise at or above the purchase price. If you are getting a mortgage on a home, you will have an appraisal contingency. And even if you are paying for the home in cash, it's usually a good idea to select an appraisal contingency in order to ensure that you're paying a fair price, as determined by a neutral third-party professional.
The appraisal itself is a detailed report evaluating the state of the market in the area, and comparing the home to other similar properties for sale. More often than not, appraisers arrive at a fair market value by comparing the subject property to similar homes that have recently sold. If the appraisal is of a new construction home, the appraiser may use the "cost approach" by determining the cost to build the home.
More often than not, a home will appraise at or slightly above the price that you paid. Occasionally, however, the appraisal will come in too low. This often opens up a door for negotiation between buyer and seller, and sellers are often willing to come closer to the appraised value. A buyer also has the option to make up the difference between the appraised value and purchase price by paying the difference in cash (in addition to other closing costs). And if neither of those options are available, the good news (if you selected an appraisal contingency) is that you're safe to walk away from the sale with your deposit money intact!
---
Remodeling A Home?
Remodeling your home? A study published in Money Magazine shows that you're not alone! Remodeling spending has jumped over 30% from its low point during the recession, and contractors are becoming increasingly busy. If you're thinking about a few renovations, we'd love to help by referring a great contractor — just drop us a line at theoffice@everyhome.com
Check out Money Magazine's great article about home renovations here!
Home renovation by EveryHome agent Jennifer Kuznits
A recent survey by the National Association of Realtors indicated that the luxury homebuyer market is growing! The survey found that 13% of prospective homebuyers are currently shopping for a high-end luxury home, defined in the Northeast as sale prices over $1 million.
The most important features for luxury buyers included a gourmet chef's kitchen, views of oceans, mountains or cityscapes, and square footage. Buyers also cited an expansive master suite and resale value as two other key factors.
Mortgage rates for an average 30-year fixed edged up slightly this week, to an average of 4.33 percent according to government mortgage giant Freddie Mac.
---
Tips and Tricks for a Successful Move
We're not going to sugarcoat it. While buying a home is fun and exciting, the actual process of moving is not a blast. It usually turns out that we have way more stuff than we realized and (spoiler alert) it can become a messy process.
But good news! There are ways to make it all a bit easier. Check out our favorite tips and tricks:
1. Color. Code. Everything. Colored and printed duct tape will be your friend, and slap on a piece with a different color for each room. Label each piece with the contents.
2. Find the largest garbage bags that the store offers, and tuck all of your clothing in — right off the rack! It's the easiest, cheapest, and most efficient way to pack a closet.
Image via Buzzfeed.com
3. Take a photo of the back of your electronics (TV, computers, speakers) so that you can easily remember how and where all of the wires connect.
4. If you have possession of your new home prior to your move-in date, it's a good idea to scrub clean the bathrooms and kitchens before moving in. You'll thank us later, I promise!
5. Prior to moving, arrange for a charity organization to come pick up any of your unwanted items. It's convenient, practical, and an easy way to help others!
6. Kids and pets? Moving to a new home in the same region? Hire a sitter, and treat Fido to a weekend of "camp" at Molly's Run Country Kennels!
7. And if all else fails, call in the pros! Many companies will pack up every single thing in your home for you, and often for a surprisingly reasonable price!
---
Home Safety Checklist
Happy Spring! To celebrate the first week of spring, we should all indulge in that special cocktail or favorite warm-weather snack…but not until we complete our home safety checklist. We know it sounds kind of boring, but more incidents at home occur in the springtime or summertime than any other time of year, and it's especially important to remember the little things in order to keep our families safe:
1. Check your detectors! You probably have a smoke detector (or two) but does it have working batteries? Warn the family before you hit the "Test" button–but let them know why it's so important to test it. And do you have a carbon monoxide detector? Experts suggest that this is one of the most critical things you can do at home to keep your family safe! They're doubly important if you have an attached garage. Pick one up for a few bucks at Home Depot or Target this weekend.
2. Keep kids safe by labeling medicines/poisonous material and blocking all electrical outlets. If your children, grandchildren, nieces or nephews are around more for the summer (and we're sure they are!), keep them extra safe by labeling and locking all poisonous material. Pick up a few super inexpensive outlet covers at Target, too, and use them!
3. Have a pool? Have kids over frequently? If you answered yes to either of these, you might want to consider getting trained in First Aid and CPR. Choking and suffocation is the fourth leading cause of accidental home deaths in the United States. Classes are inexpensive, pretty easy, and super convenient–usually held on weekends. Check out the National Safety Council for a full list of accredited programs in your neighborhood.
4. Prevent falls by ensuring that all doorways, hallways, stairs are free of clutter, electrical cords, and spills. Consider using non-skid mats underneath all rugs to prevent slipping, and install baby gates near stairways. Thanks for reading, and we wish you a happy & safe summer!
5. Keep your home secure with a professionally-monitored alarm system, or an effective DIY kit from a store like Home Depot or Lowe's (they're affordable and easy to setup!).
---
April Shows Increase in Homebuilder Confidence
Homebuilder confidence edged up slightly in April, according to the latest survey from the National Association of Home Builders. While the increase is likely due to the beginning of the spring-selling season, the modest homebuilder confidence index of 47 points may be held back by a shortage of workers, few available lots, and lending constraints.
Residential construction has grown at double-digit rates since early 2012, and builders are expecting sales to continually increase in the upcoming months.
Thinking about purchasing a new construction home? EveryHome has many agents who specialize in assisting buyers just like you! We still provide Cash@Closing (that is, we give you a portion of our commission toward closing costs), and we'd love to help you get started. Just send us an email at theoffice@everyhome.com and we'd be happy to provide more information about new construction homes in the area!
---
Underwater on Mortgage
The National Housing Trend Report for March was recently released, and the number of properties for sale rose 9.5% year-over-year. This is great news for buyers who have a greater selection of homes from which to choose.
At $199,900, the median listing price of homes also raised 5.3% since last year. These increasing home prices have helped two million struggling homeowners this past year, who had previously been underwater on their mortgages (meaning that they no longer owe more than their home is worth).  These homeowners are now far less likely to be foreclosed upon.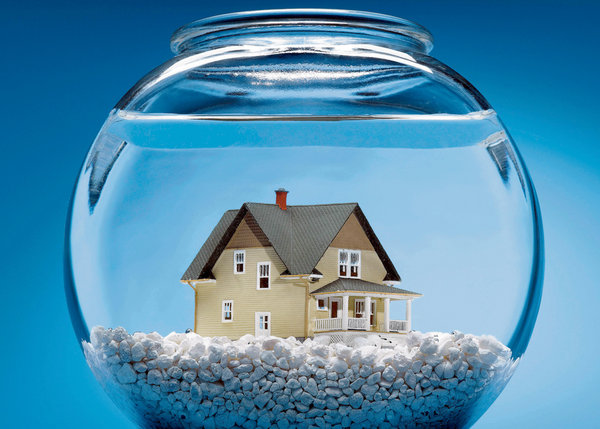 While the rate of foreclosure filings has declined drastically this past year, a few states around the nation are still struggling. Florida, Maryland, Nevada and New Jersey have the highest foreclosure rates. With foreclosure rates below the national average, Pennsylvania stayed off the top ten list.
---
Top Features for Luxury Homebuyers
It's no secret that location and size are two major factors in the price of a luxury home. If you're one of the lucky few to be in the market for a million dollar home, here are a few other things that Forbes suggests you should consider:
1. The higher the better, when it comes to ceiling height! Cubic square footage is more important than actual square footage, and as one real estate expert mentions, "there's almost no such thing as a luxury apartment with 8.5 foot ceilings!"
2. Beautiful, unobstructed views are an important consideration for luxury homebuyers. While the location (or zip code) is undeniably important, a private lot with manicured grounds will also become a key selling point.
3. It's a "must" to have at least one (but preferably two) luxury walk-in closets in the master bedroom, as well as copious storage space around the rest of the home.
4. Find a reputable builder with a proven track record in high-end, luxury homes. If you're not too familiar with local developers, ask your EveryHome agent for a little advice.
---
5 Tips for Living in A Smaller Area
Recently downsized? Living in a smaller area while saving up for a down payment? Small-space living certainly comes with benefits (lower utility bills, lower monthly payments) but it can present challenges for folks used to larger spaces!
Planning for a smaller area. Image via joannagoddard.blogspot.com
The good news is that a little creativity and planning can go a long way. Here are a few genius tips for living in a tiny home:
Organizing closets is perhaps the most obvious way to maximize your storage space, and it may be worth paying a bit extra to bring in the pros from a company such as California Closets. If you like to DIY instead, click here for some great ideas!
Natural sunlight and lighter colors can really brighten up a room and create the appearance of a larger space. Consider neutral ivories, beiges, and taupes. For a little extra light without taking up space, add a few decorative lighting fixtures to the walls or ceiling. Consider mirrored backsplash in the kitchen or a decorative mirror in the living area as another way to create the illusion of more space.
Embrace furniture that can be used for more than one occasion. A dining room table can double as an office desk when you're not entertaining, and nesting tables can be used as a nightstand.
Beautiful use of sunlight and lighter colors. Image via joannagoddard.blogspot.com
Hidden storage is your friend! Under-the-bed containers are popular (check out The Container Store) and kitchen bench seating offers an easy way to tuck away cleaning supplies or bedding. The Container Store is also great for stylish, functional storage bins and crates!
Maximize wall space by adding a few shelves for books, decor, a music collection, or lighting. Freestanding shelving tends to be inexpensive and easy to install.
For more tips, be sure to check out Apartment Therapyor The Tiny Life!
---
Americans are investing in a second home!
The vacation home market is heating up as more and more Americans feel confident enough to invest in a second home! However, the National Association of Realtors reported that second homes for investment purposes (as opposed to vacation homes) has declined by 8.5% this past year. This is likely due to rising home prices.
Foreclosures have decreased sharply around the nation, according to housing-data giant CoreLogic. The foreclosure rate is back to levels last seen in 2008, which is a great sign of health for the recovering housing market. Every state has double-digit year-over-year declines in foreclosure inventory.
Homeowners who had been foreclosed upon during the recession would normally have to wait 36 months to purchase a home again with an FHA mortgage, however, the FHA Back to Work Program will allow buyers to purchase a primary home in just 12 months. This program aims to offer families a second chance if they can prove that they've since become financially stable.
Mortgage rates dipped slightly this week, as the buying season fully kicked into gear. The average rate on a 30-year fixed mortgage dropped to 4.34%, according to mortgage buyer Freddie Mac.
---
Have you visited Chestnut Hill recently? If not, the beautiful weather this weekend might make the perfect opportunity to try out some of the towns wonderful eateries and trendy boutiques!
This weekend will be a busy one, with lots of local events. For more details, check out EveryHome agent Julie Bono's blog here!
Delicious brunch at Cake
---
What We Love About The City of Brotherly Love
#1. Philadelphia ranked fourth in Lonely Planet's Top 10 U.S. Destinations for 2013. Beating out places like the American Samoa and Northern Maine, the City of Brotherly Love was touted as one of the art capitals of America for its lively galleries, stunning murals, and extensive museums.
#2. SEPTA! The Southeastern Pennsylvania Transportation Authority has officially been ranked number one in the United States for mass transit. We'll try to remember this next time we curse under our breath when the R5 is running late, or when they threaten a strike.
#3. The City of Brotherly Love is NOT among the Most Dangerous U.S. Cities! In a recent CQ Press analysis of FBI data, the City of Brotherly Love has a crime index that was not among the worst. Our neighbors Wilmington and Camden stayed off the list too….Let's keep it up!
#4. Reading Terminal Market. Okay, I admit this is not a "weird" reason to love Philly (we all love it, right?), but I couldn't keep it off the list. Have you checked out cupcakes from the Flying Monkey Bakery? You can thank me later.
#5. Bradley Cooper. After a boring and pointless year of rooting for Philadelphia sports teams, at least the Philadelphia-born Cooper gives us something to cheer for. (We know your husband may disagree.)

---
Increase in Home Prices
The majority of the nation has been enjoying a steady increase in home prices, and that is expected to continue throughout 2014 according to CoreLogic's latest Home Price Index Report.
The report compared data from February 2014 to the same time a year earlier, and found home prices to be an average of 12.2% higher. The largest increases were in states heavily affected by the recession (California, Nevada, Michigan).
Image via www.corelogic.com
"As the spring home-buying season kicks off, house price appreciation continues to be strong. Although prices should remain strong in the near term due to a short supply of homes on the market, price increases should moderate over the next year as home equity releases pent-up supply." -Dr. Mark Fleming, chief economist for CoreLogic
---
Best Places to Raise Kids According to Philadelphia Mag
If great schools, safe streets, and lots of family-friendly things to do are on the top of your list of must-haves, you're in luck! Philadelphia Magazine has compiled a list of the top 15 places to raise kids in the Philadelphia 'burbs.
Photo via www.phillymag.com
Narberth ranks #1! Low crime rates and a great school district (Lower Merion) set this town of 4,282 apart from all the rest. Haddonfield, NJ came in at number 2, thanks to its affordability, excellent schools, and super low crime rate. Huntington Valley placed 3rd for its privacy, sense of community and education—a staggering 97% of Lower Moreland School District students go on to college!
Wayne, Moorestown NJ, Medford Lakes NJ, Upper Providence, Warwick, Upper Makefield and Wynnewood round out the top ten.
Swarthmore, Solebury, Lafayette Hill, Jenkintown, and East Marlborough also made it into the top fifteen.
For more info on the rankings, check out the best areas to raise kids …and don't be afraid to ask us to introduce you to an agent who lives, works, shops, dines and sends their kids to school in each of these areas!
---
Three Easy Improvements for Older Homes
If you're thinking of putting your home on the market (or even if you're not), there are a few easy improvements that you can make to keep up with the preferences of the modern buyer. CNN Money recommends the following:
1. Closet space in older homes tends to be significantly smaller than the massive walk-in closets we see today! Make the most of your space by installing an organizing system. For less than $100, Target offers some wonderfully affordable options, or consult the pros at California Closets (they have a location in King of Prussia!).
2. Closed-off kitchens are a thing of the past, as modern buyers prefer open floor plans and spacious kitchens with plenty of counter space. Instead, consider opening up the wall between your kitchen and dining room or living room. CNN Money estimates this cost to be around $3000. Other easy kitchen upgrades? Consider updating your fixtures and lighting — you'll be surprised at how much of a difference it can make!
3. Buyers frequently ask us where the laundry is located, and many prefer that it not be located in the basement. If possible, consider installing a washer and dryer on the main floor or second floor of your home. Stacking front-loaders can minimize the amount of space needed.
EveryHome Agent Jen Kuznits and her husband's latest home flip — a few walls were knocked down in the process!
Jen Kuznits' newly remodeled kitchen is gorgeous and spacious after being opened up.
---