Buying A Home is 44 Percent Cheaper than Renting!
Thanks to low mortgage rates, buying a home is still 44 percent cheaper than renting! By calculating the average rent and for-sale prices on nearly identical sets of properties on Trulia, experts analyzed the total monthly costs including maintenance, insurance, and taxes.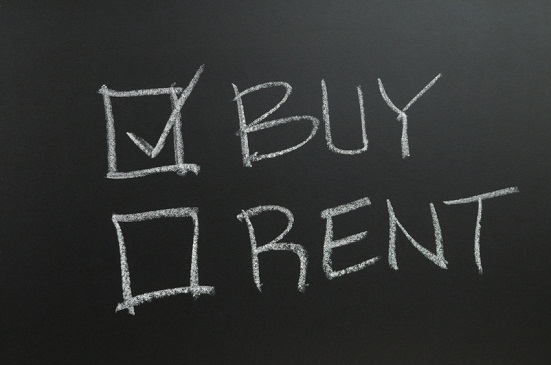 As it turns out, buying is cheaper…a lot cheaper! Certain places are comparatively more expensive to buy (San Francisco, Honolulu, NYC) but buying in other metro areas are comparatively dirt cheap (Detroit, Cleveland, Memphis).
The Philadelphia area lands right smack in the middle on the home buying affordability scale, clocking in right around the "44 percent cheaper" average.
Thinking of buying your first home? Moving to a new area and can't decide whether to rent or buy? We'd love to help you out…even if it's just answering a few questions! 215 699 5555
(Information courtesy of Trulia)
---
Get Active in Philadelphia This Spring
Spring is just a few short weeks away, and it's about time to get active and enjoy the outdoors and get into shape! The Greater Philadelphia Area hosts a large number of 5k runs and walks annually, and it's easy to get signed up and started.
The best part is that is that most of these events benefit non-profit organizations in our community. Entry fees typically range from $20-35 for a 5k. 
Running in the USA is one of the easiest resources to find an upcoming run or walk in the region. Think of them as the EveryHome of races!

New to running and walking? Check out the popular Couch to 5k website for tips and advice on how to get started. They have a great mobile app, too. 

And don't forget that many participants choose to walk instead of run in these local events, so don't be afraid to get out, get active, and give it your best!
EveryHome will be running the Broad Street Run on May 3rd, 2015!
---
Top Trends!
Top Trends for your Kitchen: Modern and minimal designs will take the top spot this year, according to many designers. While industrial features such as metal, wood, and stone will remain popular, experts suggest that we'll see a more relaxed feel and rounded designs than in years past.​
Top Trends for your Bathroom: Free-standing tubs with uniquely old-fashioned or modern architectural details are making a big comeback this year, and they'll be especially popular in small bathrooms where a tiled-in tub deck takes up way too much room! Modern curb-less showers are another popular feature. Granite counter tops will continue to be the luxurious favorite.
Top Color Trends: Pantone suspects that Spring 2014 will be the season of "Radiant Orchid", while other designers suggest that we'll be seeing a lot more cobalt blue and bright orange. These eye-catching hues will be great for accent walls, throw pillows, and floor rugs.
---
Town Blogs
Want to keep up with your town's upcoming events, or are you interested to know more about the area where you'd like to live?
Be sure to check out our new town blogs, where we're currently up-and-running in the following towns in Pennsylvania: Media, Jenkintown, Doylestown, Blue Bell, New Hope, Skippack, Ambler, Glenside, Bryn Athyn, Chestnut Hill, and Ardmore!
Town blogs are easily accessible on www.everyhome.com–just click the tab "By Municipality" on the left hand side, and the local town blog will pop up under the available homes in that area.
And if you own or manage a small business in one of the areas that we serve, let us know! We'd love to feature you!  Just contact alanna@everyhome.com for more details.
---
New Construction
With new construction popping up all over our area, buyers are often faced with the choice of buying a new or pre-existing home. Here's what we're lovin' about each:
New Homes: Customization! Dreaming about that walk-in closet, finished basement, or upgraded fixture? Many builders will allow the buyer to personalize their new home. Plus, you're unlikely to have to repair anything in the near future. Warranties from the builder, all new appliances, and pristine condition can all provide buyers peace of mind. Bonus points? New homes are often way more energy efficient. Helllooo lowered utility bills!
Pre-Existing Homes: Speed! Price! Potential! You won't have to wait for the builder to complete your home like you would with new construction, and you're likely to pay a bit less overall (though its hard to compare). If you're handy and in the mood for a project, you can buy a fixer-upper on the cheap! Bonus points? Pre-existing homes also tend to be located in better locations on bigger lots…plus they typically offer a bit more character and charm!
Have a great homebuying story? We'd love to hear from you! Shoot Alanna an email at alanna.messner@everyhome.com
---
Importance of Great Photos for Your Listing
Selling your home this spring? It's no secret that quality, professional photography will enhance buyer interest in your home and result in more showings. In fact, there have been countless studies proving just that! Since the vast majority of buyers start their home search online, beautiful photos have become an even more important marketing asset to sellers.
When interviewing a prospective listing agent about his or her plan to market your home, you'll want to ensure that they have resources for taking great photos and a strong track record of marketing homes to their fullest potential. Easy ways to help your agent out include keeping the clutter at bay, making the beds, removing magnets and papers from the fridge, and sprucing up the front of your home (perhaps washing the windows, adding a seasonal flag, or repainting the shutters).
If you'd like to list for 4.5% with EveryHome, you'll be sure to love the way we showcase your home with quality photography and a professional video tour. Just shoot us an email for more information at theoffice@everyhome.com!
---
Philadelphia's Thriving Art Scene
Did you know that over 300,000 works of thriving art call the Philadelphia Museum of Art home? Museums and galleries large and small decorate the City of Brotherly Love, which is further establishing itself as the art hub of the east coast!
 Touted as the most artistic mile in the nation, the Benjamin Franklin Parkway offers an extraordinary collection of public art, gardens, fountains, monuments, and more! Beyond museums, Philadelphia offers impressive theatre options including The Walnut Street Theater, Merriam Theater, and the Kimmel Center.
It's no surprise that Philadelphia offers so many extraordinary art attractions, as the city is home to some of the finest art schools. Talented new artists keep the art scene fresh and alive, emerging from schools such as the University of the Arts, Pennsylvania Academy of the Fine Arts, Moore College of Art & Design, and the Art Institute of Philadelphia. Whew! Be sure to check out each school's upcoming exhibitions and events.
For inspiration for your next daytrip to the city, check out www.withart.visitphilly.com!
---
4 Tips for Yard Sale Success This Spring!
Wondering where all of that stuff laying around your garage, shed, and basement came from? Well, we can't answer that…but we can help you out with an easy (and possibly even fun!) way to get rid of it: It's yard sale time!
1) The more the merrier! After you've compiled a list of things you're ready to sell, consider asking neighbors, friends & family members if they'd like to join in and set up a table. The public is more likely to head over to a big multi-family yard sale.
2) Advertise for free! Craigslist & Yardsalesearch.com are two great resources where you can post your yard sale for no cost whatsoever. In your description, be sure to list any extra special items you may have, and be detailed! Upscale clothing? List the brands. Designer housewares? Let them know which store. Also, be sure to indicate whether or not early birds are okay (otherwise, expect a few folks to show up a half hour beforehand).
3) Take your time setting up in the morning to ensure that all of your items are visible, priced correctly, and clean. If you're located pretty close to the street, set a few of your most attractive items up near the road so that passersby can get a good look. Cater to kids & encourage longer visits by offering free or low-priced snacks (water bottles, soda, bags of chips, ice cream pops).
4) Donate the rest of your items by having them picked up…for free! Lots of local charities offer free pick-up for any unwanted household goods.
---
Q&A With Security Abstract
Q: What is title insurance and how can I find out how much it will cost? Is it mandatory even if I'm buying new construction?
A: Title insurance is protection against loss if a covered defect is found in your title. When you buy a home, you are given a title to the property, which generally means you receive full legal ownership. Sometimes, however, there may be a hidden mistake in a prior deed, will, mortgage etc. that may give someone else a valid legal claim against your property. It provides a "safety fence" around your new home.
While title insurance isn't mandated by the government, your lender will most likely require it (even for new construction). The buyer has the choice of which title agency to use.
Prices are state regulated and rates are based upon the sale price of your home. You can check out current rates on the security abstract website by clicking on the link "Rates" at the top of the page. The "sale" rate is applicable for all real estate purchases, and it offers coverage to both the owner and lender. The "non-sale" rate is applicable when we are only issuing a Loan Policy (such as when you're refinancing). Additional protection can also be offered with an Enhanced Homeowner's Policy, which offers coverage on 28 additional risks
Please don't hesitate to reach out with any further questions! I can be reached by cell at 215 771 2933 or email at dmessner@securityabstract.com
---