VA Loan Sets Record
The Department of Veterans Affairs backed nearly 630,000 mortgages in 2013, which is a record-setting high for the program. Designed to benefit our nation's veterans and active-duty military men and women, a VA Loan is a popular choice because they're more flexible in their credit score requirements and require no down payment. They soared even more in popularity after typical lending requirements became stricter following the recession.
                If you're a veteran and would like to know more about a VA Loan, please don't hesitate to reach out to us! We're more than happy to provide you with the resources to get you started on purchasing your dream home.
---
Choosing A Real Estate Agent?
The spring buying and selling season is well underway, and chances are you'll be relying on a real estate professional to guide you through the maze of homes for sale, paperwork, and negotiations. Here are a few things to consider when selecting a real estate agent:
1. Consider your needs. Are you a first time home buyer? An investor? Looking to rent? What's your price range? Let prospective agents know what your goals are and don't be afraid to ask them who they work with the most.
2. What's your communication style and schedule? Ask your agent how he or she keeps in touch with clients. Whether it's through email, texting, or calling, be sure that you're compatible and that your agent is reliable and responsive. Also, inquire about your prospective agent's schedule to ensure that he or she can show you houses at times that are convenient for you.
3. Keep referrals in mind. A trustworthy family member or friend's recommendation can mean a lot (especially if your loved one's real estate needs are similar to yours!). An agent's reputation is very valuable, and many agents rely on word of mouth to garner future business.
4. Take your time! It's always a good idea to talk with a few agents before settling on the person you trust the most. Remember that a good real estate agent will NOT ask you to sign a "Buyer's Agency Contract" right away (this means that you are bound to working only with them). Make sure you feel really comfortable with your agent before signing such a document.
Here at the EveryHome office, one of our very favorite things to do is match new clients with the agent that might be best for them. Please don't be afraid to ask us for a recommendation! We love to help.
---
How is awful weather helping your home search?
Your grandmother always told you, "When life gives you lemons, make lemonade." For those of us who aren't winter sports enthusiasts, this awful weather is one big lousy lemon. But there is a silver lining! If you're in the market for a home, this awful weather can work to your advantage, and here's why: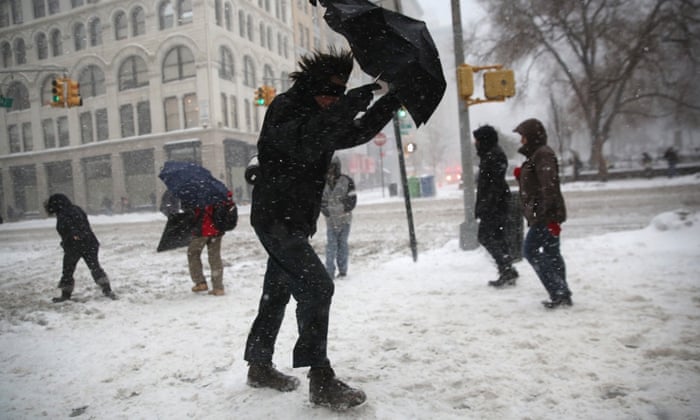 As you can probably imagine, very few homebuyers want to see homes when the wind chill is in the negative numbers. Who can blame them? But when the market is this competitive for buyers (due to a low inventory of homes for sale), it might be worth bundling up and making the trip. We can tell you from experience that the weather really does affect the number of appointments we have! Of course, we're not suggesting that anybody sacrifice safety—if the roads are slick or a storm's a-brewin', wait for another day.
Another benefit of fewer buyers willing to brave this chilly weather is more personalized attention from your real estate professionals. It's likely that your agent will have fewer appointments than normal, and your lender will have extra time to answer questions. Some lenders and moving companies reduce or waive fees to entice homebuyers in the off-season. Take advantage!
Last, but certainly not least, is greater insight into the condition of the home. These chilly temperatures, snow, and ice put your home's heating system, roof, gutters, and plumbing to the test. A home buyer or home inspector may be able to pick up on defects a bit more easily this time of year.When life gives you a polar vortex, go home hunting.


---
Must Do's Before Listing A Home
It's March! And that means that lots of homes are going up for sale and buyers have more inventory to choose from than any other time of year. Before listing your home here's how to ensure that you will win over even the most discerning buyer.
Curb appeal matters! When potential buyers are browsing for homes on EveryHome.com (and any other site, for that matter), the first picture they see is the front of your home. First impressions are huge, here. Before listing your home, repainting your front door, adding some hanging baskets, flying a clean flag, adding a new welcome mat, and pressure washing your patio are just a few ideas to increase your homes appearance.
A clean, neutral foyer at 1519 Conestoga Rd in Chester Springs, PA
Neutrality is key! Any upgrades you make should appeal to a wide variety of tastes. It's impossible to know the preferences of a potential buyer, so consider neutral beiges (white is not a neutral, believe it or not) for any new paint or carpet. If you have any lime green or hot pink rooms in your house, you might want to consider repainting them before listing your home. An EveryHome agent would be happy to advise you how to get your house looking its best.
Kitchens and Bathrooms are considered the most expensive parts of the home to upgrade, but they're also super important to buyers. While you're likely to recoup a good amount of any investment you make here, we understand this probably isn't your priority as you get your home ready to hit the market. Instead, consider repainting or polishing cabinets, replacing old fixtures, and keeping the table beautifully set–fresh flowers and all! It's also worth in investing in a great new set of towels for the bathroom.
A welcoming, clutter-free living area at 176 Durham Rd in Newtown PA
Declutter! This sounds obvious, but you'd be surprised how many sellers don't do this before listing a home—which means you can really stand out if you do! Decluttering allows the buyer to visualize their furniture and belongings in your home. Plus, it makes you look like you have a lot more space! Since this is pretty individualized, check with your EveryHome agent to see how you can best emphasize each room in your home.
---
Sell for Only 4.5 Percent Commission!
We love to help our buyers and sellers achieve their real estate goals as easily as possible, and we offer a variety of services intended to lessen the stress of our clients selling their home. It's true that selling a home can be frustrating, exhausting, and time-consuming…but the good news is that it doesn't have to be! In fact, EveryHome was designed for the purpose of making real estate fun and simple.
Our Full-Service Plus is designed for sellers who want all of the great traditional real estate services without having to give up 6% (or more) of their hard-earned equity. We list your home on the Multiple Listing Service, as well as all of the other popular real estate websites. We schedule all showings, negotiate on your behalf, navigate home inspections and appraisals, provide a professional video tour, and offer a great rebate to prospective buyers….all for 4.5 percent commission!
One of the most convenient aspects of our Full-Service Plus program is that we will go to settlement on your behalf if you'd prefer to be at the spa, on vacation, playing golf….or doing anything else! We like to call it a "California Close", and a lot of our sellers really appreciate this added flexibility.
Want to know what your home is worth? For a complimentary no-obligation Comparative Market Analysis, or for more information on how to sell your home for only 4.5 percent commission, send us an e-mail at everyhome@everyhome.com. We look forward to hearing from you!
---
2013 Recap
The real estate market showed continued signs of improvement in 2013 through the return of the luxury market, increased home prices, and fewer distressed properties…but there's still a lot to look forward to in 2014! We're anticipating an increase in inventory of homes for sale, continued steady growth of the market, and accessible financing for first-time home buyers.
 1. Home prices increased significantly in 2013, which allowed many homeowners to gain a little more equity in their homes.  While the statistics vary a bit by source, they're all reporting considerable increases; in fact, the S&P/Case-Shiller home price index increased 12.8% year-over-year in the fall! Thankfully, many homeowners are no longer "underwater" on their mortgages (meaning that they had owed more than their home was worth).
  2. The foreclosure crisis slowly came to an end this past year, but distressed properties still remain prevalent in some areas. Overall, the nation saw a 37% year-over-year decrease in foreclosure filings in November 2013.
3. This past year transitioned into a seller's market, as lowered levels of inventory found many prospective buyers competing for the few homes available. Bidding wars weren't uncommon this year, and luckily we can expect to see many more homes for sale in the spring!
4. Due to increasing home prices, fewer investors purchased homes this past year than during the recession. Instead, we saw a big increase in "move-up" buyers, while first-time homebuyers remained pretty stagnant. We hope to see many more first-time buyers in 2014!
---
SPRING HAS SPRUNG
Spring has sprung and the selling season is just around the corner! We typically see the season kick off just after the Superbowl weekend, and this year is shaping up to be a busy one. Since many clients wish to settle into their new home just after the kids begin summer break, the big home-hunting begins in late winter/early spring. If you're thinking of selling, be sure to capitalize on this by listing your home early!
         For those of you wishing to sell, be sure to check out our video with Darla Demorrow of HeartWork Organizing for some of her most-loved staging tips when getting your home ready for the market. We're also offering a special discounted commission rate of 4% to help you keep even more of your hard-earned equity. Just mention that you heard about our rate in the newsletter, and don't forget to ask for a no-obligation complimentary Comparative Market Analysis to determine your home's current market value.
       We have a great offer for our buyers, too! You may already know about our "Cash@Closing" rebate, in which we give you a portion of our commission back at settlement…but have you heard about our Promo Codes? We have a variety of ways that you can earn extra money back at the settlement table, and one of them is just by reading this newsletter! Next time you head over to Everyhome.com, be sure to type "January" in the Promo Code box (bottom right-hand of the front page) and you'll be able to check out how much extra money you'll make while browsing for homes. And, as always, give us a call anytime you have any questions or wish to see a home in person! We're available nights and weekends, and we're always happy to accommodate your busy schedule. Have A Happy Spring!
---
Healing Hearts
        The Barkann Family Healing Hearts Foundation provides financial aid to families who are in need, due to recent adversity or tragedy. Whether it be the sudden death or illness of a parent, the long term illness of a child, or the loss of a home or property due to fire, flood or disaster, we strive to help families bridge the gap until they can seek long term stability to lessen the financial burdens due to these, or other, life altering disasters.
Many of the EveryHome Agents and friends have gotten involved in this grass roots charity started by Ellen and Michael Barkann and have found a special place in their hearts for the great work they are doing in our area.  This Valentine's season we wanted to share a little about them with you.  If you would like more information please visit http://thebarkannfoundation.org/.
       If you are thinking about purchasing your home with EveryHome and would like to support the foundation enter Promo Code HEART at everyhome.com to see the donation that can be made on your behalf.
---
Eat like an NFL player this SuperBowl
SuperBowl Party Quesadillas.
2 lbs chicken breast.
1 8 oz bag mexican shredded cheese
1 package of plain tortilla shells.
1 pack of taco seasoning.
2 cups of fresh pico de gallo.
1 cup sour cream.Boil chicken breast in salted water. Once boiled, shred chicken.
In sauté pan use 1 tablespoon of olive oil, mix shredded chicken with taco seasoning.
Once well blended add fresh pico de gallo and stir together.
Remove from heat. In a large non stick pan lay a tortilla flat and heat lightly on both sides. Then add shredded cheese to half of tortilla as desired. Fold tortilla in half. Heat on both sides until golden brown. Lay on cutting board. Using a pizza wheel, cut into 4 quarters and serve with sour cream on side.
Buffalo Chicken Dip Recipe
Smear one package of cream cheese on the bottom of a pie plate.  Mix together one can of chicken with 1/2c of blue cheese or ranch dressing and 1/2c hot sauce.  Top with shredded cheddar cheese.   Bake it at 350 till hot and bubbly.  Before you serve it mix it all around.  Serve with tortilla chips and celery.
Gourmet Recipe
Potted Crab with Meyer Lemon
1–2 Meyer lemons (2 teaspoons finely grated zest, 3 tablespoons juice, plus thin slices for garnish)
2 tablespoons Sherry
1/2 cup (8 tablespoons) unsalted butter (preferably Kerrygold Pure Irish), room temperature
1 teaspoon harissa paste or 1/8 teaspoon cayenne pepper
Kosher salt and freshly ground black pepper
8 ounces lump crabmeat, picked over for shells

Buttered toast points. Bring juice and Sherry to a boil in a small saucepan over medium-high heat; cook until reduced to 1 Tbsp., about 3 minutes. Transfer to a mini-processor; let cool. Add butter, lemon zest, and harissa; purée until smooth. Transfer to a small bowl. Season to taste with salt and pepper. Gently fold crabmeat into butter (keep crab pieces intact). Pack crab butter into a crock, smoothing top with a butter knife. Cover and chill for at least 3 hours and up to 2 days.
Garnish with lemon slices, if desired. Let stand until room temperature, about 1 hour, and serve with buttered toast points.
RECIPE BY Christopher Hirsheimer, Melissa Hamilton
PHOTOGRAPH BY Jason Lowe
---
This year I will be more organized…
The start of a new year is a great time to look around and add some order to the clutter that has built up around us. We talked to Professional Organizer, Crystal Sabalaske, who gave us some invaluable advice when it comes to taking this leap into a lessstressful, more organized beginning to 2014.
The hardest part of any project like this is getting started. What most of do at this point is go shopping for pretty baskets and organizing tools.  Crystal advised that what most of us instinctually do first is probably the worst place to start.
Never buy decorative baskets and organizing supplies as a first step.
Crystal suggests a better first step.
Take a look at what needs to be organized, gather, sort, purge and segment everything you are looking to organize before purchasing the things it needs to go in.
It takes people a long time to get past the fact that they spent money on the decorative organizing supplies and had no idea what their storage needs actually were.  Lots of times these baskets end up needing a place to be stored.
Some of the other great tips she shared with us were…
Never organize for someone else as a surprise!
Surprise, someone is upset they can't find any of their stuff!!! If there are others in your house that need to get organized, enlist their help in going through their stuff.  Everyone has their own way of accessing their things.
Organize one room at a time.
Give yourself enough time to complete the task at hand.
Your space will look worse before it looks better.  If you have a disorganized closet you will need to bring everything out of it and have a messy room before you can put what needs to go back in an organized way.
Organizing isn't for everyone.  There are many very talented people out there that you can enlist to help you get on the less cluttered path.  Get help if it is a feasible option.  Mention the EveryHome newsletter to get $40 off an initial 3 hour organizing session with Cluttershrink®.
Cluttershrink® provides professional residential, office and relocation organizing services to motivate individuals to simplify their lives by eliminating physical and mental clutter. Through encouragement, coaching and hands-on organizing, individuals discover the tools needed to create an environment that renews confidence, promotes success and replenishes what people need most – more time!http://www.cluttershrink.com/
---
Home Staging with Heartwork!
Home staging is the art and science of making your home the most appealing it can be to the largest numbers of buyers in your market. Yes, it's fun to make a room or a whole house pretty, but when staging, HeartWork Organizing focuses on universal truths about how we all like our homes. We like our homes light, bright, open, large, clean, organized, comfortable, updated, coordinated, and smelling nice.
                Many homeowners think buyers should be able to look past the décor and see the "bones" of the house. Most people can't imagine something different than what they see. If they can, they are probably ringing up what it will take to "fix" the things that don't appeal to them, like poor lighting and wallpaper. By updating décor before you list, you can raise the value of your house well beyond the value of the changes.
                Unlike what you see on TV, most people have to live in their home while it is listed, and most people don't want to spend a lot of money on fixing up a house they are leaving. Home staging typically uses things the client has on hand, or a few carefully selected new or rented items, to refresh the home (art). In most cases, any new items coordinate with your belongings, so they'll work wonderfully in your new place, too (science).
                With the written report in hand, a client can either complete their own work or, more often, allow HeartWork Organizing to transform the space into a buyer's dream (art). Since you're probably pretty busy already, and maybe even more than usual with the details of moving, getting the house ready for sale is something that your stager can do. We typically spend between 1 and 5 days on a home, depending on the size and the areas we're improving (science). Written home staging analysis are just $180, and hands-on staging starts at just $525. Email now for free staging tips or to schedule an appointment.
                Darla DeMorrow is an award winning home stager, Certified Professional Organizer®, Color With No Regrets consultant, decorator, author, speaker, and owner of HeartWork Organizing. Request your free staging to sell tips at www.HeartWorkOrg.com or schedule an appointment at 856-905-3202.
---
Monthly Payments and How to Budget for Them
If you're a renter looking to purchase a home, figuring out your budget can be a little tricky. Monthly payments, as you already know, are pretty straightforward. There's typically just one number that you have to worry about. As a homeowner, however, you have to consider taxes and (if applicable) homeowners' association fees. Luckily, EveryHome's website has a nifty little tool called "See Closing Costs" under each individual house listed on our site. Here's how it works:
                When you click the "See Closing Costs" link, a screen will pop up with a whole bunch of numbers. It can look confusing, but bear with me a moment. On the left hand side, alter the parameters to fit your needs (how much money you'd like to put down is the most important thing to consider). Then, the number at the very bottom right of the screen will reflect your estimated monthly payments. This total payment includes taxes and association fees.
It's also important to account for any needed repairs and any changes in utility bills. Typically, utility bills will increase when you purchase a home so it's a good idea to get an estimate beforehand. If you have your eye on a particular house, you can request the average monthly payments from the seller. If you're just starting out, you can reach out to local utility companies for an estimate (of course, your EveryHome agent is happy to do this for you too!).
To get a sense of what you may be able to comfortably afford, consider checking out BankRate's budgeting tool: http://www.bankrate.com/calculators/smart-spending/home-budget-plan-calculator.aspx
---
Walk Score!
With a Walk Score of 76.5, Philadelphia ranks in the top five of major US cities, thanks to each resident's convenient access to nearly all amenities. Center City East, Center City West, and University City ranked highest among Philadelphia neighborhoods, with scores of 97, 97, and 93, respectively. New York, San Francisco, and Boston were the only three cities outranking the City of Brotherly Love.
  With the belief that a walkable town is great for one's health, the environment, and the economy, the folks at Walk Score® have worked hard to provide ratings for nearly every town and city in the United States. They provide public transit and bike rankings, too!
  To check out the Walk Score® of your town (or a town where you'd like to buy a home!), check out www.walkscore.com
---
Are Open Houses Worth It?
While an open house can be a great tool for agents seeking new clients, many real estate professionals believe that they aren't typically worth it for sellers. Most real estate agents report that only 1-3% of their listings actually sell from an open house, which means that it is much more likely that someone will purchase your home from a private showing.
                Rather, buyers today tend to be much more interested in browsing for homes online at their convenience and scheduling a showing on their own time. Open houses in our area typically don't receive too much traffic, and many visitors tend to be curious neighbors and "looky-loos" with no intention of buying.
                Of course, there are times that an open house may work to your advantage when trying to sell your home. If you're looking for feedback from prospective buyers, it's a great way for your agent to ask people for their opinions. It also provides a good source of motivation to get your home extra spruced-up! An Open house tends to be a great option when they're a luxury home or otherwise really unique in your market.
---
Home Sale Contingency
Buying a new home while selling your current home sounds like it can be confusing, but it doesn't have to be! Typically, folks in this situation put their home up for sale once they scope out the market and get their financial ducks in a row. Once their home is on the market, they begin to seriously look at new houses and (in a perfect world) they put an offer in on a home when they get an offer on theirs.
Of course, sometimes it's not always this easy. Maybe you're struggling to sell your house for the amount that you'd like, or maybe there aren't any homes on the market that you'd like to purchase. A home sale contingency is one solution.
Here's one common scenario: You just put your home up for sale, and your "dream home" pops up on the market. Its priced well, its move-in ready, and you just know that it's not going to last on the market for very long. But you haven't had any offers on your home yet. So what do you do? A home sale contingency is one option. When you submit an offer on a new home, you may elect a home sale contingency stating that you must have your home under contract before a specified date, otherwise the contract is null and void (and your deposit money remains intact). The catch? The sellers may have the right to continue to market their home, but you will have the right of first refusal should they receive any serious interest.
Some lucky ducks don't need a home sale contingency, because they may be in a financial situation that permits them to secure a mortgage without having to sell their current home. Of course, nobody enjoys paying two mortgage payments…but it might allow you a little extra flexibility time-wise. As always, ask your lender or EveryHome agent for the most personalized advice.
---
next page